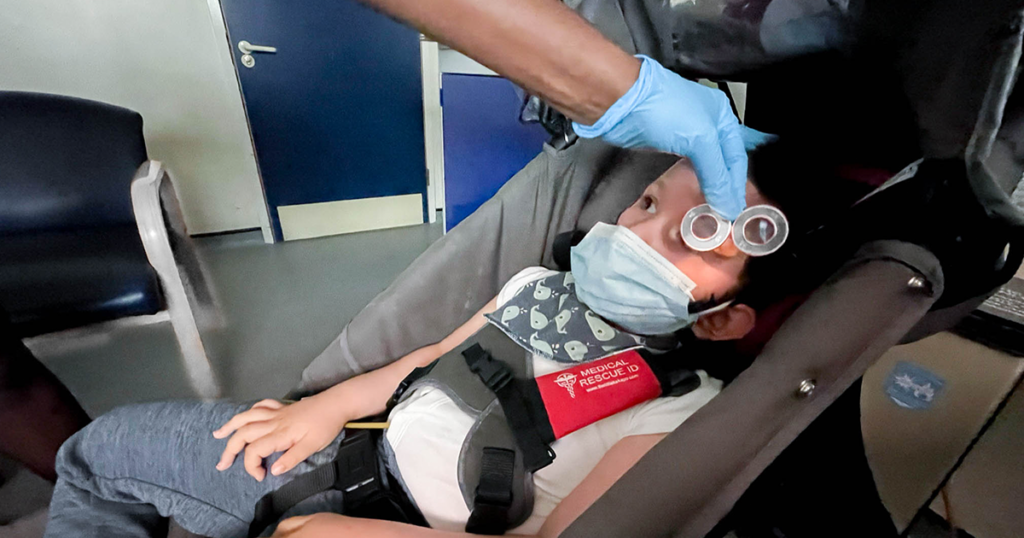 As everyone here in London is just Getting On With Life as if cover wasn't a thing, there was pressure to take Mikaere into his Ophthalmology appointment. You can't really do ophthalmology over zoom, and it's been two years so… yes. With much anxiety and mask wearing (even Mikaere) we went and saw his ophthalmologist.
Mikaere has CVI (cortical vision impairment). We know that. It's not clear what he can see, what connections are getting through to his brain. There's also an issue with the tone of the muscles around his eyes, which means one eye floats in a bit (it's called strabismus). We also found out this time that his eyes are oval shaped – called astigmatism. That's not NKH related, as Sam has that too. Mikaere is also long sighted. So it's all a bit complicated, but mostly fine.
The lovely ophthalmologist looked at Mikaere's eyes, and shone various lights and made some decisions. Mikaere thought it was generally hilarious, and was very cheeky, holding still just long enough for her to almost get her readings, and then turning away with a laugh (he thinks he's hilarious!)
Anyway, the short of it is Mikaere's getting glasses. Again. He actually had glasses briefly almost two years ago, but after a while he refused to wear them. The ophthalmologist then said it's likely that his eyes changed shape and the script was likely off. He was right, I guess.
But awkwardly because of Covid, the spectacle dispensing office was closed, and so we need to wait for another appointment to have a fitting.
Still, I feel like it was good to go, and novel for Mikaere to be out and about and meet people outside our bubble (!)  I guess stay tuned for the glasses reveal?
#disability #nonketotichyperglycinemia #nkh #nkhawareness #ifhnkh #metabolicdisorder #teamMikaere #glycineencephalopathy #nkhcansuckit #someoneFundACure #cureNeeded #disabledparenting #disabled #disabledfamily #complexmedicalneeds #metabolicdisorder #nkh #spectacles #strabismus #astigmatism #eyeCare