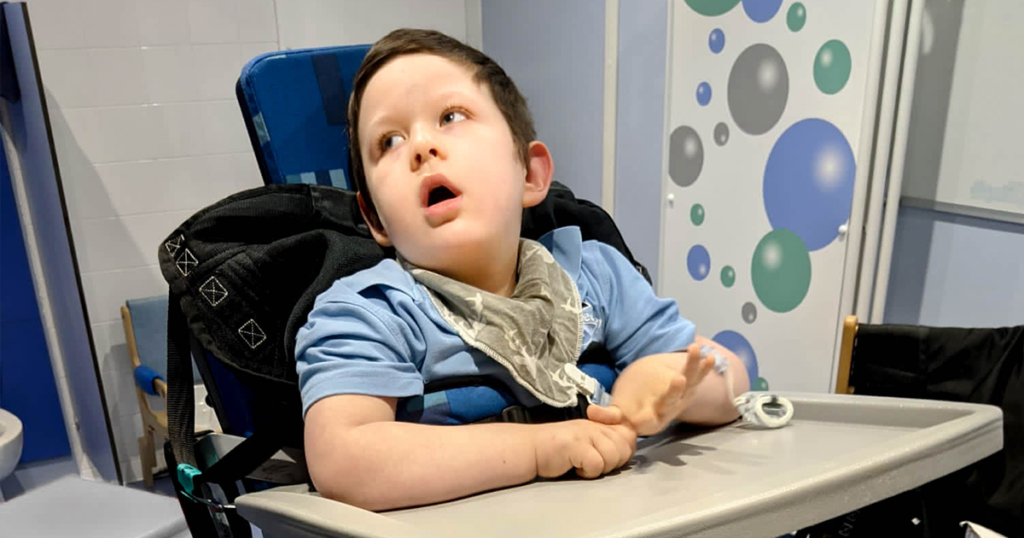 One of the changes that happens now is Mikaere's therapy is done at school. Where I am not, which means I can't be there to advocate for him. This here is Mikaere in his stander at school. This is not the stander we trialled at home. It doesn't have head support he needs, or support behind his elbows. You can see how his chin tilts up, which is problem, because then secretions pool in the back of his throat which means more gagging and vomits and breathing difficulties. I can't see where the strap is, in regards to his tube – is it rubbing? Is it accessible? I can't see how he's moving in it. Is he comfortable? Is he extending against the straps? Is anything rubbing? How is his feet? Are they turned out? I can see it's not the superman pose we set up at home (because it's better for hip abduction). And I'm so frustrated. So frustrated that this was done without me.
Because of course it's now all going to be done without me. He's at school now. I've been told repeatedly that his independence is important, for us and for him, and that letting him have that is necessary.
The tug here is that I genuinely feel like no matter how great his team is (and they are great), they are not as great as me. They don't know him as well, they don't know about NKH as well as I do, they're not able to anticipate like I do, and they are not his parents.
There is also this frustration that if his time is limited, he's spending it with people who aren't his family. With people who aren't US. They are getting all his awake moments, all the beautiful interaction and fun. And we get the tired Mikaere, who is so exhausted after school that he sleeps.
I'm struggling with this transition. There are (obviously) benefits (for us and him) that he goes to school and we get daily respite, but it's not a black and white situation. I don't know how to advocate for him when I can't see what is happening with him. I'm not the one making decisions for him, and I'm not the one ensuring that he's getting the best out of his time there.
Instead my mama heart is trying to be okay with 'good enough'. This stander is not the one that we trialled. It's not set up the way that I would set it up, and it's not as supportive as I would like. But. But he is standing, which is good for him. It's good for his hips and muscles and digestion and I bet it feels really good.
I hate this. How do I advocate, and how do I settle for 'good enough' when for the past five years I have done everything in my power to ensure Mikaere has everything, and more that he needs?
#disability #nonketotichyperglycinemia #nkh #nkhawareness #ifhnkh #metabolicdisorder #teamMikaere #glycineencephalopathy #nkhcansuckit #someoneFundACure #cureNeeded #disabledparenting #disabled #disability #disabledfamily #complexmedicalneeds #metabolicdisorder #nkh #transitionToSchool #standingFrames #hateThis