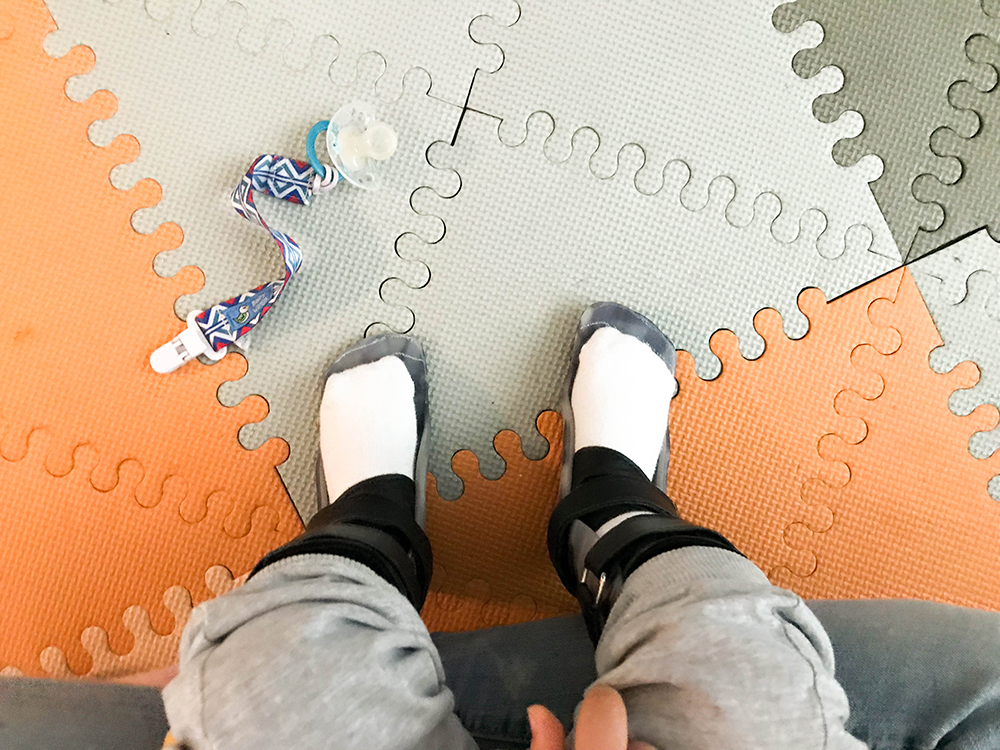 Sometime last year, our physio mentioned AFO's – Ankle Foot Orthosis. We were using trainers + leg gaiters to help with free standing (I say 'free' standing, but what that really means is that we hold Mikaere up, rather than him standing in a stander).
The trainers were to stop his feet over pronating (meaning: the arches of his foot rolled inward), and the gaiters to help maintain knee extension (meaning: he can't lock out his legs, and use his knee to keep his leg straight).
But, she thought that AFO's – like a hard sandal that has a back that goes up to the calf – might help his standing without the need to fix his knees.  Mikaere is also showing dystonic posturing of his feet into an equinovarus position (pointing down and inwards), and the idea was that AFO's would offer him more time with his feet supported in a more neutral position.
We're lucky that we're part of a tertiary hospital that isn't currently suffering from funding issues thanks to private funding, which meant that with a referral letter from our clinician and a letter from our physio, we got the thumbs up for AFO's. To be clear: our local community hospital wasn't going to fund them. So we're grateful!
They're custom made for Mikaere – his feet were covered in plaster and the AFO's made from the mould. We use them most days during physio-like activities, and sure enough, they help keep his feet in more neutral positions and definitely make standing easier!
They're another set of supports in our kit. At this point – it's heart breaking knowing my baby is almost two years over the point where most kids learn to stand. It's unlikely he'll ever it do it by himself, without support.
I also know that if he doesn't stand, if he doesn't bear weight through his legs, his hip sockets won't form and he'll be at risk of hip sublaxation (where his hip is partly dislocated) and/or hip dysplasia (where his hip socket isn't formed correctly, which doesn't hold his hip joint in place).
I know that both those options can be painful, and awful. I'd like to avoid that. So, standing. As much standing as we can do. To be honest, it's not a lot. Finding time in our days to fit standing in isn't easy. But every minute counts. So some days it's kneeling against me across the back of the couch, and some days its in the stander, and some days in ten minutes in the AFO's.
We do what we can, hey? We've picked a fun blue camo, in the hope that it will make them more 'fun' to use. Sigh. Onwards we go.