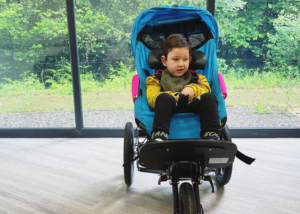 A few months ago we drove down to Fordingbridge to visit Delichon HQ to see if the Delichon Delta might be appropriate for Mikaere. We were having such issues with the Hoggi Bingo, don't get me wrong, it's a great supportive chair but for indoors and pavements only. We are not an indoors/pavement only kind of family. So, the hb was ideal for school but rubbish for any of the things we wanted to do. I was wildly unimpressed after losing the flexibility of our old buggy (and generally disillusioned with the world that actively excludes disabled people).
So, we went down to Delichon and put Mikaere in a bunch of different chairs, and had warm feels about the delta. It's not the special tomato, it doesn't have the swivel front wheel, and it doesn't recline BUT that wheelchair doesn't exist at the size Mikaere needs it. The Delta was a significant improvement on the Hoggi Bingo – it manages grass and dirt and off road hills, it's good for running and has a bike attachment so we can all ride together. We were pretty pleased, except… it's expensive (as it should be, it's a quality piece of kit). But womp. So we got a quote, and went on our merry way. We talked to a handful of charities about funding and crossed our fingers. We borrowed our friends delta for our trip, and was quietly hopeful that we might one day have our own.
Well, thanks to the Elifar Foundation we found out this week they are going to cover the cost in full (!) and Mikaere's very own Delichon Delta has been ordered!!! We're very excited about the freedom it will afford us, and the adventures we'll be able to go on. We'll see. We're excited and grateful, watch this space!