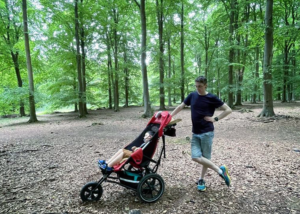 A few weekends ago we took a holiday out to a cabin in the English woods. It was an "accessible" cabin, but I imagine it's accessible for those who can self-transfer, rather than the full spectrum of those who are disabled.
Finding places we can stay is becoming increasingly more difficult (seriously, how hard is it to install a hoist over a profiling bed, and into a bathroom with a shower trolley?) but accessibility rant aside, it was a lovely weekend! Mikaere enjoyed being out and about in the forest, and there were hot tub swims and we ate a silly amount of icecream.
It was a delightful break, and we were stoked to just be in a different place. Mikaere loved it, and had such a great time. I also think there's something to be said for getting him outside. It's not always easy at home, so to be able to wheel him out onto the porch which faced a private bit of wood was lovely.
We weren't able to use his regular chair on the off-road walks (seriously, the hoggi bingo awful for off-pavement) but we managed to borrow an off-road trail chair which was perfect (hurrah delichon delta!)
As Mikaere gets older (and bigger and less portable), it's clear the world is becoming less accommodating, less accessible. But I'm pleased we managed to do this trip, that we made it work, that we were able to make some beautiful memories. Hurrah for holidays, hey?
PS – More photos over on instagram @teamMikaere