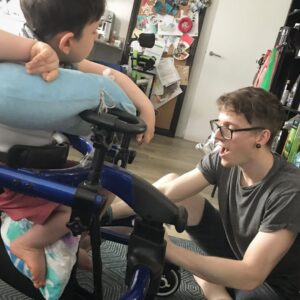 We're struggling. Without our giant team of therapists and nurses and all the many many people in our home who help us help Mikaere… we're operating at a completely different level to pre-covid. The bar is much lower. Trying to get stretching and physio and therapy in…
Bluntly, it's not happening, and I can see Mikaere's development backslide as a result. It's heartbreaking, and managing the guilt of we're doing our best and knowing that our best isn't good enough… because it can't be. Two people can not replace the team we had. We're trying to be everything and… we can't. We can't be night nurses and physios and SALTS and CCNs and OTs and vision therapists. That list doesn't even include the fun groups, the social sensory time, or swimming or yoga or horse riding. Trying to find the mental capacity during the day to get in the basics of stretching and the physio and the equipment… it's not happening.
We pulled out the walker today. The idea is not for him to walk, but to spend some time in a different, upright position, feeling weight through his legs and ankles. It's been a while.
He spent a good five minutes of the fifteen he was in it not wanting to put his feet down. He's miles away from where he was, and just… it's hard.
Quality of life wise we're doing our best, but how do we calculate risk/reward in this case? The risk of allowing people into our bubble? Most of the UK has normalised living with Covid. But when the risk for us is death? How do we normalise that? Is that risk, his death, worth allowing our team in to help support us support Mikaere? To give him a better quality of life? In NZ, our family is a vicarious no, because they've normalised life without Covid. In the UK, our friends shrug and ask what would need to happen for us to open our doors, and he's terminal anyway, so shouldn't we bet on quality over quantity?
I'm torn and I'm scared and I don't have the right answers. I don't know what the right answer is. How long can we keep living in isolation like this? It's been months and months and months.
I can't help but feel like there is no right answer, and either way we're failing Mikaere. On the up side we found out it costs half a million pounds to hire a private plan to fly us to NZ. Where we could be safe. Anyone have a half mill handy they want to donate to our covid-safe migration? 🤣 I wish!