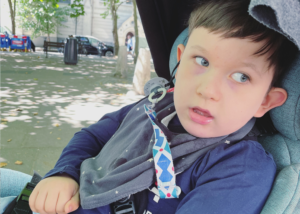 Oh this HEAT! London is in a heatwave. We're doing our best over here (cause increased heat usually means increased seizures) with fans and portable aircon, feets in paddling pools and mist from spray bottles and closing the curtains. It feels like we're hunkering down, trapped inside (because outside is too hot, it's just too hot rn). But this little guy is such a champ, he smiled through physio this morning, and is always up for a round of acoustic noise making, or smashing the space foil, or just laughing at his brother. He's so patient and kind with us, I'm grateful.
We're trying to make memories, but feeling like we can't go anywhere is hard (constantly feeling like we're not doing enough, while also knowing we're doing the best we can. It's not a competency thing, it's a capacity thing). Still, I'm grateful he doesn't seem to mind, and is happy to make memories at home.
We have some friends who are in tricky places right now, in PICUs and wards all over the country. It's hard to see their messages, to both despair and love with them, to be overwhelmingly grateful that Mikaere is at home, and in great health and *happy* – I feels wildly unfair that others are in tricky places (while at the same time knowing we've been there, and are likely to be there again, at some point). So things right now are tempered, hugging my kids close, wishing I could do more, wishing my capacity was infinite (and equally knowing it's not). Holding on tight to gratitude, with a bit of memory making on the side.
I guess that's how this summer is going. How's your summer shaking out??