The thing with NKH being so rare is that we don't get to hang out that much. There was a group hang out in the UK up north towards the end of last year, which was beautiful and so emotionally out there. It was a delight to see everyone (I even got cuddles with some of the other kids, which was such a privilege! Antonia, my heart!) but also – I felt the gaps. The kids I missed and were still grieving.
Still, we chatted and caught up and cheered the milestones and discussed meds and therapy and equipment. We talked about what people were struggling with and had some quiet moments with tears.  There was also the unexpected delight that I was in a whole room of people who knew how to look after Mikaere. Do you know how rare that is? Being able to pop to the loo, or have a conversation without being hyper vigilant, because there are at least three other people also hanging out nearby?
There was also a video group chat last month, organised by Kristen (from NKH Crusaders).  I was the only one from the UK who called in, but honestly – it was so nice to chat and talk and just – be with people who understand.
In both cases, the call + the meet up, it such an emotional balm. Because they were a safe places,  I could ask those questions I'm wrangling with.
Like – seriously. How do you deal with grief and loss? How are we meant to SURVIVE this?! There are parents who have 7, 10, 15 YEARS of living with NKH under their belts – HOW ARE THEY DOING THAT?! Because honestly, that our current life might last that long seems overwhelming and impossible. That Mikaere might die, and we won't reach that long is downright inconceivable.
The notes I took after both are disjointed and all over the place: "Focus on the good, focus on the day to day." and "The stress doesn't go away. The same old same old, the story doesn't change, but when our day to day is still a challenge, that's hard. " or "It's hard, there's always loss. Grief is devastating. " and  "We still have the thoughts, the negative fears, and then the hope. The hope lives everyday."
And the thing is – all those notes are high level, it-is-what-it-is type statements. They're living the same life we are, with the hard and the grief. What I'm struggling with is that I don't think there is anything I can do to relieve the pressure of palliative, special needs life.  I think we feel the pain, and onwards we go because there is no other choice. There is no way out but through it. We love our children, and our children have NKH and it is what it is.
Maybe that's my problem. I'm looking for a fix, I'm looking for a way to relieve this discomfort, this phase of life. Because thats what we're taught, right? If you are unhappy with a facet of your life, it's up to you to make change. It's up to you to learn more, do more, make change to better yourself. Pull yourself up by your bootstraps, work your way upwards. Do the work: be in a better position. We reward that kind of 'go-get-em' stereotype.
But what if there isn't a way to 'fix' the discomfort? What if the end goal isn't change and growth, but to endure?
Even typing that makes me uncomfortable. It makes me squirm, because I don't want to live in perpetually in grief. I don't want to endure the stress of the special needs life, or the stress of my baby dying. Would it feel less awful if I stopped trying to fix the unfixable?
But, in the same vein, I don't know how to accept the unacceptable.
It was easier to manage when the conversation moved on to research (apparently mice in sterile areas are getting infections they shouldn't?) and then onto fundraising. I feel like I was talking to the pros of NKH fundraising. We do what we can (you know we're branching out a bit more now we're doing things like the hair shaving + the NKH Chicken Nugget Challenge).
To be honest, with each event I feel if we can raise £100, £500, £1000 pounds, every single bits helps. Every single pound makes me feel like doing I'm something, helping change our lot towards something positive. It's not the $20k fundraisers some of the others are doing (how do they do that?!), but we're doing the best we can. The thing is, fundraising makes me feel like we're moving forward towards something. We're making a difference. If I can raise £5 – that's everything.
So yes, here's to wonderful company with our tribe. Oh NKH community – we love you, and we're so grateful for you. It's such a comfort to know we're not alone. That we're not the only ones thinking the hard thoughts and feeling the fears. <3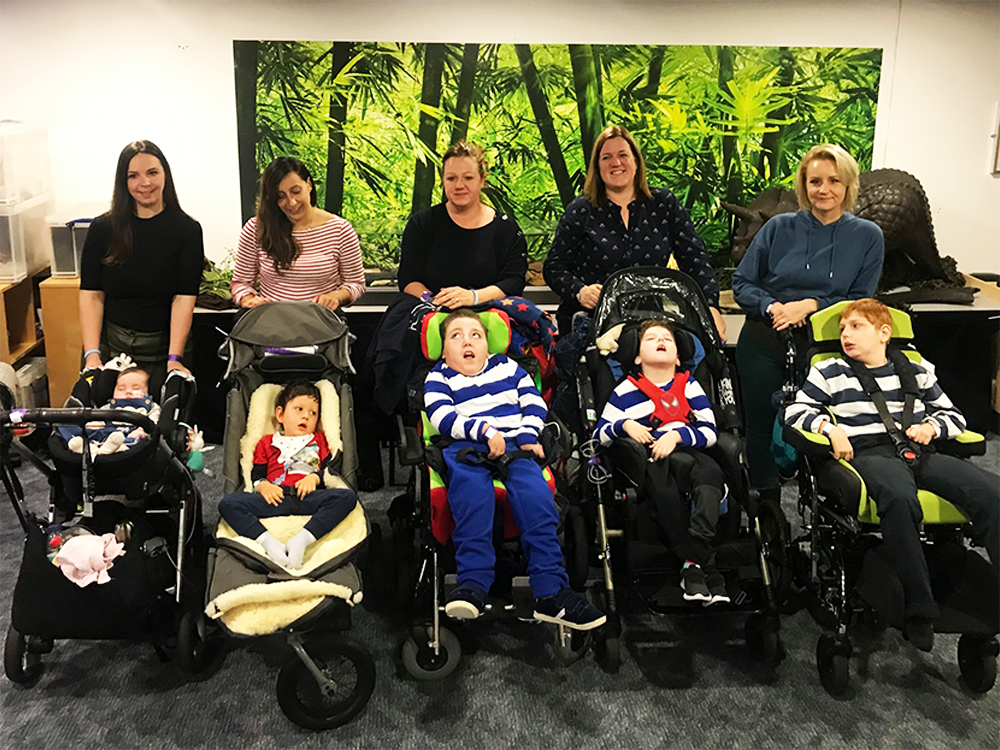 Left to right:
Daisy's Dairy with NKH, Team Mikaere, Joesph's Goal, Jack's Journey + the amazing Doms!
This isn't everyone who came, but only the segment where some of us managed to line up.