Hey you guys, we've been a bit absent lately. I'm not going to apologise for that, really. Life happened. The short of it is that I tried to do too much in one go and now I'm paying the price, but that's okay because the outcome is that we hit the Van Hove Appeal goal! We raised $10,394 and absolutely SMASHED that $10k goal!
It was a pretty ambitious goal, to be honest. $10k is a huge, huge amount.  So thank you for everyone who donated in the name of #teamMikaere – we saw so many familiar names come through with donations, so many people we know and love – so thank you. You guys were a strong catalyst for pushing us forward. I'm not even kidding, 53 of the blue squares (each with a donation of $50 or more) were bought by #teamMikaere supporters. That's a whopping 29% of all the squares, and while we were facilitating the campaign, this success honestly belongs to you and to the NKH community which rallied beautifully to the cause.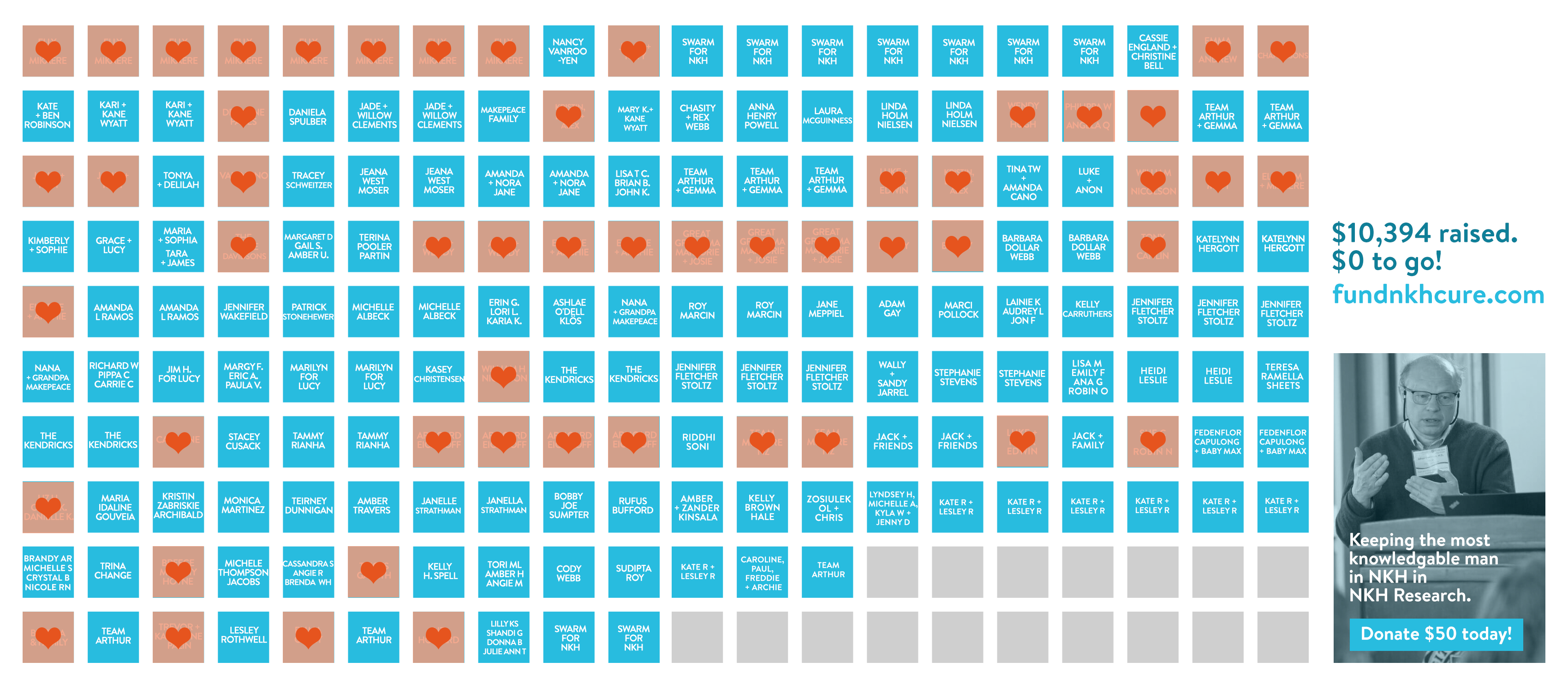 Now, I know that $10k doesn't seem like much, but it makes all the difference. Unfortunately this amount won't be matched by the University of Colorado like we had originally hoped. We tried working with them, but they're a state funded school and can't release the funds for Van Hove.
But we spent a lot of time working out a plan with Kristin from the NKH Crusaders and Emma from Josephs Goal, and we have a plan:
Van Hove needs $120k to keep his lab open from July 2018 – July 2019:
– NKH Crusaders has committed $25k upfront now, and a $15k grant early in 2019, with the second payment in partnership with the Nora Jane Almany Foundation.
– Joseph's Goal has also committed $25k upfront, with a second payment of $15k in early 2019.
– The community has raised $10k with the Van Hove Appeal
– Les Petits Bourdons are sending $12k
– Hope for NKH is sending an additional $5k.
– Prof. Van Hove has gained the support of a fellow who will send $15k.
That's $92k now with $30k to come. A whopping $122k all up. We've done it. We've raised enough money to keep Prof. Van Hove in NKH Research. That's INCREDIBLY amazing. He's the nicest of guys, literally one of the most knowledgable on NKH – and he is responsive to parents. That is HUGE. We're grateful he's still in research, we're grateful he's got funding for the next year.
In terms of more general fundraising, we've done really well, recently.
With Josie, Margot + Chris running their marathons (in Istanbul, London + Edinburgh respectively), Adam riding from London to Paris, with the corporate support from Infinis, the charity Art Exhibition… you guys, we've hit in £69,575.88 raised in the last year and a half. I'm blown away by the support and love people have shown towards Team Mikaere because you GUYS – that is a ridiculous number. Side note: the VH appeal is not even included in that number!)
Here is what I know about that number – that huge giant number was made predominantly of tiny tiny donations. Small little donations add up, and that number? We're well on our way to our £100k goal. That's a year worth of research right there.
With that in mind – we're having another wine tasting! Are you in London and free on the afternoon of 22nd of July? We're doing another wine tasting – this time with a twist! Less sitting down, and more interactive goodness, moving from table to table. Tasting wine, with pairings and wine facts and riddles and games. All proceeds go to Joseph's Goal and NKH Research (obvs).  It's in Putney (SW15 1SZ), tickets are £20 and available from here: https://bit.ly/wineforkai2
Please come drink wine with us. It's going to be amazing.