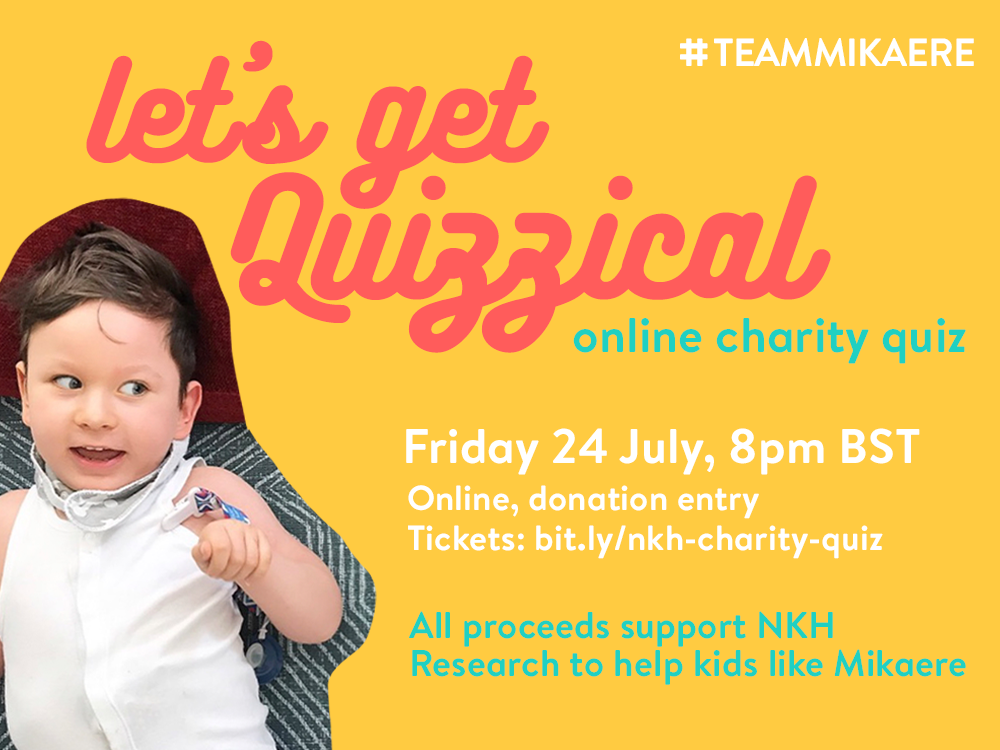 I'd thought I'd talk about the seizures. They're awful, and they come with so much helplessness/guilt/fear, but my heart today is not up for it. I don't want to talk about stupid seizures and how they steal everything and how I hate them (and NKH, so so so much!)
So I'm going to do what I always do when things look bleak, which is to say oh hey, fancy helping us fund a cure for NKH by coming to an (online) charity quiz?? (Please come!)
A lot of our fundraising events have been cancelled this year, for obvious reasons (2020, wtf?). We're gutted, not because of the lost donations (though that hurts), but because usually our fundraising events are an opportunity to hang out and connect with people who care about the same things we do. Isolation, it's a whole crazy thing. We really miss hanging out with people, and that lack of in person social support has really taken its toll.
So, together with the amazing Tony and Tess, we're doing the Charity Quiz ONLINE  from the comfort of your living room. Which basically means, wherever you are, you should come join us for the quiz.
It's on Friday 24 July, 8pm BST (check what that means in your time zone at World Time Buddy). You'll need a laptop/tablet (ideally with a webcam so we can see you!). Buuut I figure if you're seeing this, you're probably a technology literate person.
We're asking for suggested £10 donation per person (although that's a suggestion, you're welcome to donate more, or less if £10 is a stretch!) and you can sign up at: http://teammikaere.com/blog/campaigns/lets-get-quizzical-2020-nkh-charity-quiz/
How it works:
Download the Zoom app to your phone or go to the site on your laptop: www.zoom.us and create a free account if you don't already have one.
You'll need pen, paper, snacks and a drink!
Your team can be just you, or everyone in your household
You'll be emailed a link to a google spreadsheet to add your team name, and the zoom link.
8:00pm to get everyone online. Questions will start at 8:15pm!
We'll do 5ish rounds, keeping it light.
There will be spot prizes and a grand prize, but we're operating on honesty, so please don't google the answers!
At playtime:
Add your name to the google spreadsheet tab (spreadsheet link will be emailed to you!)
You'll need to score yourself, and add your points to tab 2.
Anyone can join, the more the merrier! Invite your friends, spread the word. There will also be silly spot prizes, and an NKH round and generally fun times all round.
All funds, as always will go to Joseph's Goal, who in turn fund Prof. Nick Greene at UCL and his team of NKH Researchers.
Please come join us, it'll be a great night. There will even be a Mikaere-in-costume movie round, which you'll DEFINITELY want to see.
Also, being surrounded by people who aren't this minute being besieged by grief and seizures and the downside of living the special needs life will do my heart some good. We'll take as many positive and upbeat moments as we can.
So, Friday 24 July? See you there?