There's this thing about good times. When things are good, I feel like I'm holding my breath waiting for them to be not good. Like I'm waiting for the other shoe to drop. I'm told this not uncommon when parenting a child with a progressive disorder. When you've been on end of life and expect to be again, any good time is by nature of NKH, temporary. A nice, tiny haven where you ache to be with every fibre of your being, knowing full well you can't live in the realm of 'everything will be okay forever'.
So Mikaere recently enjoyed a good period. I got a bit superstitious about it and didn't want to say anything in case it jinxed it. This makes zero logical sense and I know that Kai's wellbeing does not hinge on whether I say he's doing well or not. Nonetheless, there a words we don't say unless we have to, and when we do we touch wood. (I've never been more superstitious in my life – when there are big, important things you can't control you find ways to make yourself feel better about them).
So. Let me tell you a big thing. Mikaere hadn't had a seizure since before Christmas.
Until last week.
I can't begin to tell you how we watched him progress with no seizures. How his eyesight got better, how he started sleeping through the night, how his tone improved, how we saw more smiles and how he started vocalising more and eating better. Doing everything more and better. When his brain wasn't fighting seizures it was developing. With new skills and new all sorts.
We don't know why the seizures stopped. It could be he was well. It could be the medications were bang on. It could be the neuroprotectant meds we started. It could be that the planets were aligned or the sands were blowing east in Africa.
We don't know and that bothers me. If I don't know then I cant replicate it. This giant balancing act we're constantly managing, we've hit on a magic time and I don't know what we've done. Maybe we didn't do anything. Maybe this is something we can't control.
I hate that idea, because now the seizures are back and I don't know why or how to stop them.
The first one I just caught out of the edge of my eye and I wasn't convinced it was a seizure. It could have been a stretch, or a twitch. The second one was unmistakably a seizure. Fuck. Fuck fuck fuck fuck fuck. I don't even know how to explain the despair. That terrible sinking feeling, the 'here we go, battlestations' type familiar mentality you have when your baby has frequent fits.
I've spent hours pouring over my notes of his meds, all the activities we've done in the last few weeks to figure it what was going on. Was his meds off? Had he outgrown his meds, has he put on weight or lost weight? Was he in pain? Was it something he ate? Did I feed him something with unlisted ingredients that he's reacting to? Was it something I stored his food in, did something leach? Did he have a temp, was he ill? Was he teething? Is this NKH progression? The constant back and forth and second guessing.
And then the constantly whirling questions about the affects of the seizures. Was Mikaere going to lose all the skills we'd been working on? Was he going to lose his developmental momentum? Were we going to back to sleeping in shifts and constantly on guard? Was this going to slip down into something more sinister?
I don't know. It's tough not knowing. I did what I could, which was check and recheck his emergency meds, the rescue medication. I settled in the counting and timing and comforting after each one. I became paranoid about leaving the room, and would even move him into the bathroom with me if I had to use the facilities.
I just, I hate this. I hate that my baby is suffering seizures again. They're so disorienting and horrible for Mikaere. They mess up our days and we're all out of routine.
And then it got worse. The seizures started clustering, and we started having to give emergency rescue medication. I cried the first time, as a gently administered a round of midazolam. Kai's grandad once told us that it's midazolam they use the euthanise whales that have stranded themselves. I hate sedating Mikaere. I hate watching him slip into that groggy fog, I hate watching him fight to stay conscious. I hate watching him seize more though, so I do it.
But then he seized again, multiple times. And throughout the day I was using more and more rescue meds.
And I realise that this is exactly what I worried about in the good times. That we'd end up here, multiple clusters of seizures, having to use emergency rescue meds, watching my baby suffer continuously and not knowing what damage is happening to his little brain.
Seizures are horrific. NKH is such a bitch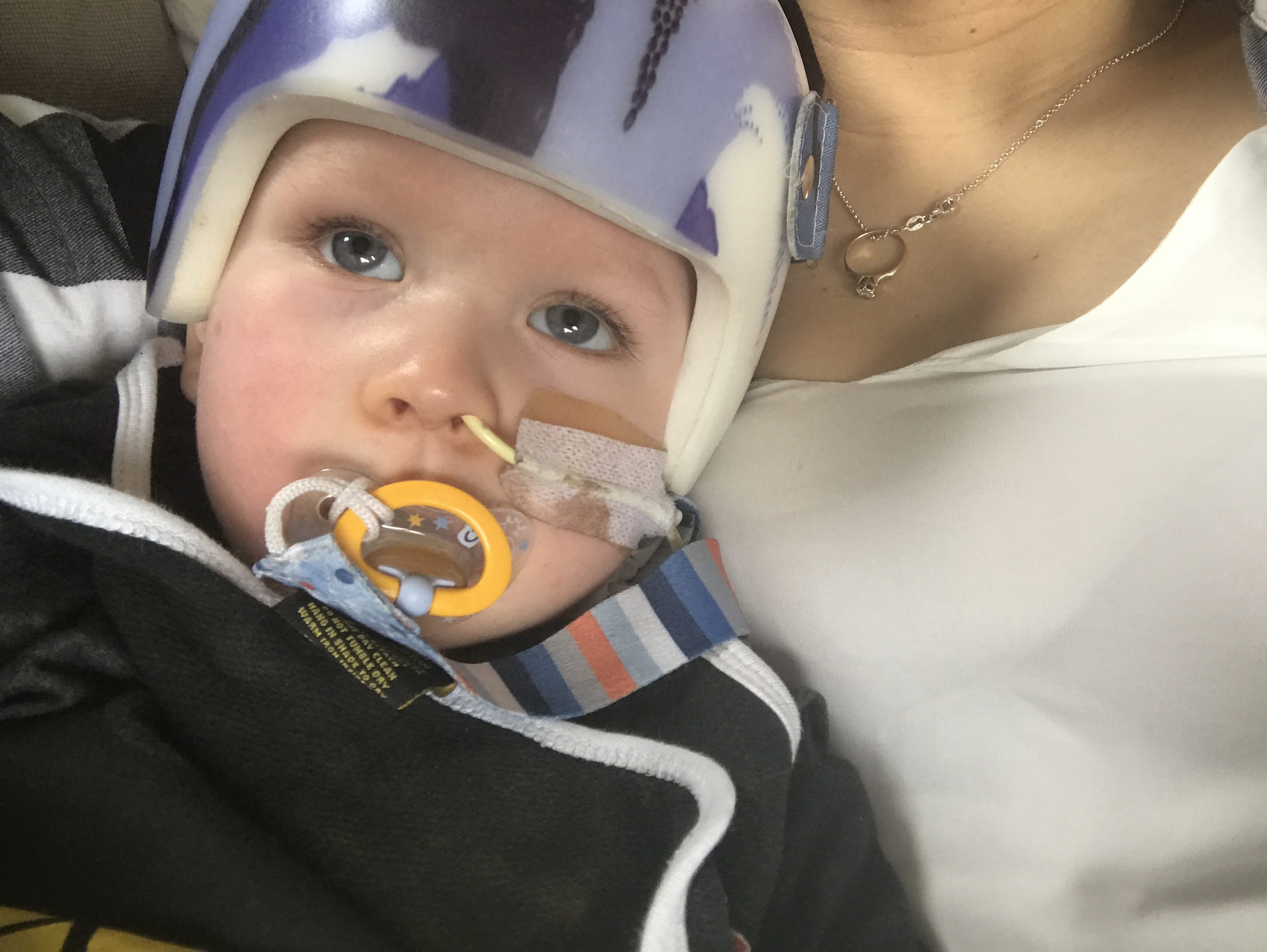 —-
I know I'm always asking. Help us find a cure. Donate, or buy an Eva book if you're able. Every bit helps.